United and Free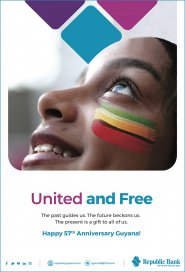 Happy 57th Anniversary Guyana!
25 May 2023
NOTICE: Temporarily Unavailable Electronic Banking Services
There will a disruption in service on Sunday 28 May, 2023, from 00:00hrs to 05:00hrs.
24 May 2023
NOTICE: Payment of Interim Dividend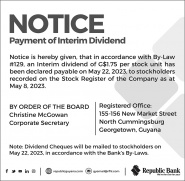 Notice is hereby given, that in accordance with By-Law #129, an interim dividend of G$1.75 per stock unit has been...
09 May 2023
Forex Rates
| ABBR. | SELL (Drafts) | SELL (Notes) | BUY (Drafts) | BUY (Notes) |
| --- | --- | --- | --- | --- |
| USD | 217 | 215 | 208.5 | 200 |
| CAD | 148 | 148 | 145 | 145 |
| GBP | 243 | 243 | 240 | 240 |
| EURO | 208 | 203 | 195 | 195 |
| TTD | 31 | 30 | 27 | 22 |
| XCD | 73 | 73 | 70 | 70 |
| BBD | 93 | 93 | 88 | 88 |
See all rates